Christine-Maria Höller
Violin lessons from the age of seven. Programme in violin performance at the University of Music and Dramatic Arts Mozarteum Salzburg under Prof. H. Zehetmair, pass with distinction. Postgraduate studies under Prof. Lukas Hagen, further training under Prof. Igor Ozim.
Master classes with Shmuel Ashkenasi, Gilles Apap, Rony Rogoff, Michael Frischenschlager, Dimitry Sitkovetsky, Leonidas Kavakos, Stefan Picard.
Instructor at the Mozarteum Salzburg since 2002. Lecturer in violin seminars in Austria, Germany and South America.
Multiple-winner of various international violin competitions.
Concert performances in Salzburg / Großes Festspielhaus, Bayreuth, Dortmund Konzerthaus, Prague Rudolfinum, Munich Prinzregententheater (Celibidache Festival), Mecklenburg-Western Pomerania (Festival), Istanbul (Pentecost Festival 2002), Argentina (Ushuaia International Festival), Orvieto/Italy Classical Music Festival 2011, Lisinski Hall Zagreb, Musikverein/Goldener Saal, Vienna, among others.
Solo performances with the Bern Symphony Orchestra (A. Boreyko), Salzburg Mozarteum Orchestra (O. Mága), Prague Radio Symphony Orchestra (V. Valek, P. Feranec), Dortmund Philharmonic Orchestra (A. Fagan), West German Sinfonia (D. Joeres), Berlin Symphony Orchestra, Moscow Symphony Orchestra, Prague Dvorak Symphony Orchestra (J. Uliarte), Salzburg Philharmonic Orchestra (E. Fuchs), Capella Istropolitana, Salta Symphony Orchestra (F. Izcaray), Bochum Symphony Orchestra (S. Sloane), Norddeutsche Philharmonie (F. Krumpöck), Zagreb philharmonic orchestra (D. Danzmayr), among others.
Other concert performances (duet, trio) with Lukas Hagen, Rico Gulda, Luca Monti, Keiko Hattori, Mari Kato, Gerda Guttenberg, Noriko Shiozaki, Irma Kliauzaite-Franc, among others.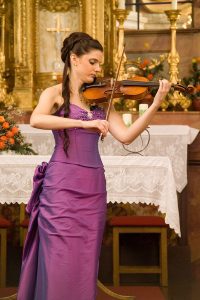 Christine-Maria Höller plays a wide range of music literature. Alongside classical pieces, she is also highly dedicated to contemporary compositions, which she has premiered as a soloist on a number of occasions (e.g. at the Munich Celibidache Festival, Salzburg Whitsun Festival).
Recordings
CD "Portrait" / Gramola, including works by Dvorak, Kreisler, Sarasate, Prokofiev and Mozart.
Wilhelm Hill "Kammermusik" / Cantate Musicaphon.
Live recordings of various orchestral concerts (Salzburg Festspielhaus, Prague Rudolfinum; Brahms, Bruch, Tchaikovsky, Saint Saëns).